Multidisciplinary Team (MDT) is a type of cancer treatment where medical specialists from a range of medical fields work together for integrated care by analyzing patients' data to conduct the most effective and proper treatment plan for each patient.
In each multidisciplinary team in Cancer Center at Vejthani Hospital, professional team members exchange information and brainstorm on their specialized sector during a weekly meeting or "Vejthani Tumor Board Conference". This is to construct a proper, accurate and fast treatment plan. The advantages, disadvantages and expected result of the treatment are discussed among the specialists in the conference. They also forecast possible side effects of the treatment while planning a proper patient care once they have received the treatment. Aside from these, the medical team will be able to provide a proper advice to the patient as well as systematically construct a correlated treatment plan. The objective is to enhance patients' quality of life during and after the treatment. The doctors in charge will inform the patients and their family about the treatment plan for the most effective integrated treatment after each Tumor Board Conference.
MDT consists of doctors from various medical specialties that are related to oncology and they are responsible for taking care of patients based on each of their specialty.
MDT Chairman: Manages the team to ensure patient care is proceeded as planned.
Oncologists: Deliver treatment and medications as well as monitors the outcome of the treatment.
General surgeons and specialized surgeons: Perform surgeries and plan a proper surgical guideline.
Gynecologic oncologists: Perform surgeries on female patients to treat certain types of cancer, such as ovarian cancer and cervical cancer.
Pathologists: Perform biopsy and examine tissue
Radiologists: Detects size, location and stage of cancer
Radiation oncologists: Construct the most effective treatment plan with the use of ionizing radiation or deliver radiations to the patients while ensuring the least side effects occur from radiation.
Oncology nurses: In charge of patient care and give comprehensive advice.
Psychiatrists or psychologists: Responsible for taking care of patients' mental health and closely advise them to make them relax and motivate them to fight against the disease.
Physiotherapists: Design physical activity programs and help patients with body restorations.
Oncology pharmacists: Administer and manage proper medications for cancer patients.
Medical geneticists: Interpret genetic test results and take care patient's family who are at risk of developing cancer.
Life Cancer Center
For inquiries, or to make an appointment, inbox us or call our English hotline at +66 (0) 85-223-8888 or email [email protected]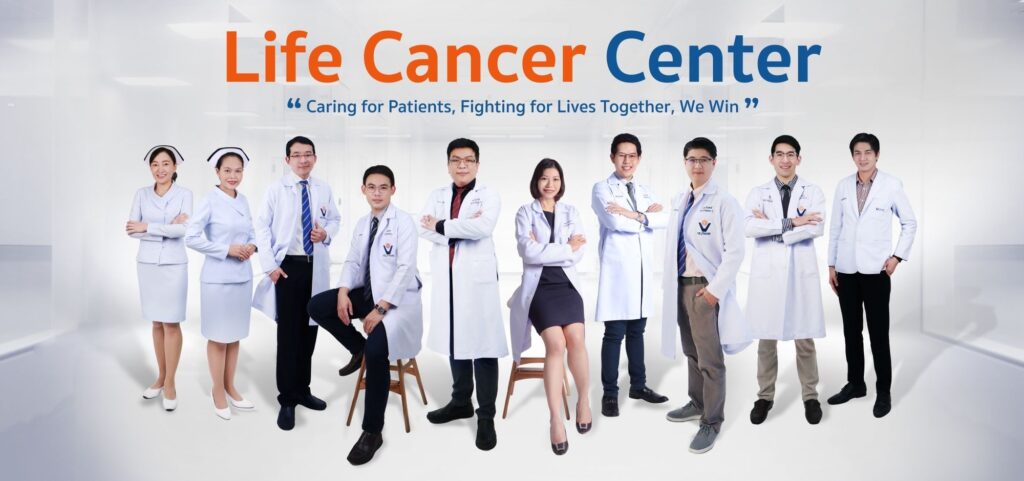 Readers Rating

Rated 5 stars




5

/ 5 (

Reviewers

)

Spectacular
---