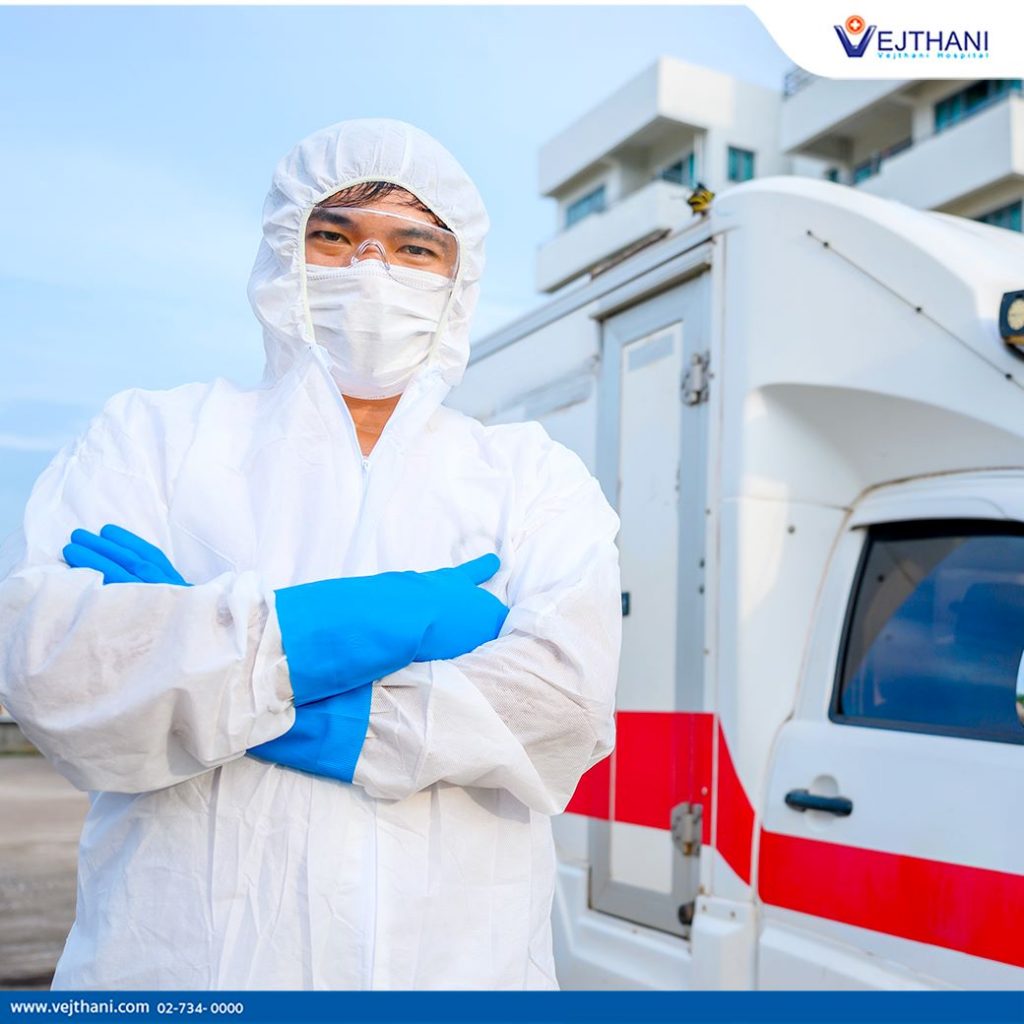 V-Flight Air Ambulance Services
Vejthani Hospital's V-Flight service is considered the best one-stop air ambulance service in Thailand. V-Flight has a dedicated team of professionals to arrange your flight and ground transfer from the airport in your home country to the hospital.
The V-flight team will swing into action as soon as your flight is confirmed. They'll review your medical history in detail and take along any medicine or equipment that might be needed for your condition. They'll arrange for you to be picked up by an ambulance at your location and transferred to the nearest airport. V-Flight medically equipped plane, referred to as the "ICU in the sky", will meet the ambulance. You'll be transferred aboard and begin your journey, monitored by medical professionals who will guarantee your safety and comfort throughout the flight.
Transferring to Vejthani Hospital
Vejthani Hospital in Bangkok is well-equipped with outstanding facilities to offer you the best medical care in Thailand. The V-flight team is available to arrange air transfer from any airport in the country to our hospital in Bangkok. You'll be looked after during the ground transfer as well as the flight by a team of qualified medical professionals to ensure the continuity of your care.
Once you reach our hospital, you'll be provided with the best monitoring and care in the country. We'll take note of any underlying conditions that may pose a danger to the patients and adjust the treatment accordingly.
Being under the care of the medical professionals at Vejthani Hospital, every facet of your treatment will be geared toward providing the best treatment for you as an individual with special medical needs and conditions take into consideration.
Foreigners can be hospitalized in Bangkok for longer than their Thai visa is valid. That's not a problem when you're at Vejthani Hospital. Our staff are trained to easily arrange for your visa to be extended without you ever having to leave the hospital or apply for an extension through Thai Immigration.
Having diseases may be frightening but it can be somewhat relieved when you have the option of Vejthani Hospital and the V-Flight Air Ambulance Services. To learn more about what Vejthani can provide a patient who is suffering from a critical condition, give us a call and consult with our medical coordinators now.
Readers Rating

No Rating Yet!
---