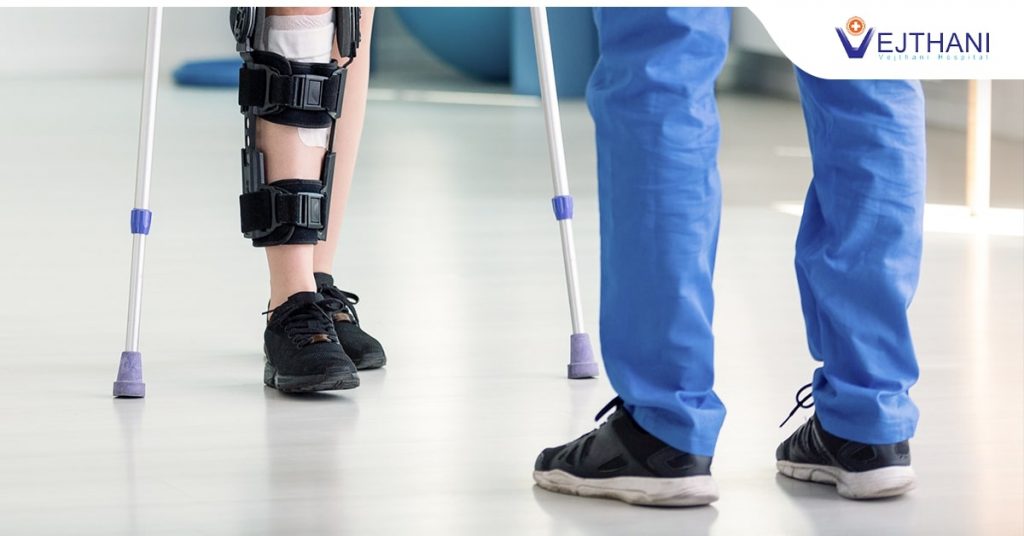 Vejthani Hospital has a long history of being the favorite destination for foreigners with orthopedic problems. Medical tourism is a new and growing phenomenon, but Vejthani has seen a steady stream of orthopedic patients from overseas for many years.
They travel to Thailand mostly because one of the best orthopedic hospitals is in Bangkok at Vejthani Hospital. The services are so advanced compared to orthopedic treatment services available in their own country that they've earned Vejthani a special nickname. Vejthani has long been known as one of the best orthopedic hospitals in Bangkok, but it's now becoming known to many foreign orthopedic patients as the "King of Bones".
Focus on Treating Orthopedic Specialties
Their growing reputation for excellence in orthopedics has been further underlined by its Clinical Care Program Certification accreditations for:
● Lumbar Decompression and Fixation Program
● Knee Replacement Program
● Hip Replacement Program
Vejthani has also set up four centers to treat specific and general areas of orthopedics.
Three of these centers generated as the orthopedic doctors saw a need for specialization in the areas of joint replacement, spinal issues, and physiotherapy and rehabilitation. The special attention these three areas of medicine received meant they soon earned their local and overseas reputation for the quality services they deliver. Learn more about these three departments below.
Hip and Knee Center
The Hip and Knee Center at Vejthani Hospital features state-of-the-art technology and is staffed by highly-qualified arthroplasty surgeons. The center specializes in total knee and hip surgery. In the time it's been in operation, it has provided over 1,500 successful knee replacements, and over 500 successful total hip replacement surgeries.
Hip and Knee Center offers:
1. Knee arthroscopy
2. Hip arthroscopy
3. Total knee arthroplasty (knee replacement surgery)
4. Total hip arthroplasty (hip replacement surgery)
5. Minimally-invasive hip and knee surgery
6. High tibial osteotomy
7. Computer-assisted surgery in total knee replacement and total hip replacement
8.       Robotic-assisted surgery in total knee replacement and total hip replacement
9.       Unicompartmental knee arthroplasty  
10.     Cruciate retaining with mobile bearing TKA system
11.      Revision TKA and THR
12.      Reconstruction surgery for hip and knee fracture
Spine Center
Vejthani Hospital's Spine Center offers advanced surgical and non-surgical treatment of spinal issues, performed by a team of highly experienced doctors and surgeons. These doctors use the latest modern technology, including:
● O-arm
● Navigator
● Endoscopy
● Microscopy
● Intraoperative Neuromonitoring
Our multi-disciplinary team is able to effectively treat patients suffering from diseases of the spine and spinal discs and devise an optimal treatment plan for each patient.
The center has provided:
● Over 5,000 spinal surgeries
● Over 3,000 cervical surgeries
● Over 3,500 endoscopic/microscopic surgeries
● Over 5,000 herniated disc surgeries
Advanced Rehabilitation Center
Vejthani's Advanced Rehabilitation Center provides a full range of physiotherapies conducted by a talented team of physiotherapists, physical medicine and rehabilitation doctors, and occupational therapists using advanced robotic-assisted programs.
Our staffs are experts in Human Movement Rehabilitation, where the goals and needs of the patient come first. Our Human Movement machines and solutions include:
● Robotic-assisted Gait and Balance Training
● Lokomat machine
●      C-Mill machine
●      KEEOGO
●      Balance machine
● Tilt Table
● Gait Training with Litegait Machine
● Conventional Ambulation Training
● Balance and Coordination Training/Joint Proprioceptive Training
The pain solutions used to reduce both musculoskeletal pain and the pain of orthopedic solutions include:
● Shockwave Therapy
● High-Intensity Laser Therapy
● Peripheral Magnetic Stimulation
● Transcutaneous Electrical Nerve Stimulation (TENS)
● Short Wave Diathermy
● Ultrasound Diathermy
● Heat and Cold Therapies
● Dry Needling/Trigger Point Injection
The technologies and solutions provided by the Rehabilitation Center make it one of the most advanced physiotherapy centers in the region.
Orthopedics Center
The Orthopedics Center at Vejthani Hospital is one of the best orthopedics departments in the country. It's a large contributing factor the hospital earned its nickname as the "King of Bones".
Our doctors are all board-certified orthopedic surgeons who specialize in the care of the musculoskeletal system. They specialize in compassionate care that considers the mobility needs of the patient first. This guides the doctors in formulating the best treatment plan to return them as quickly as possible to their former physical abilities.
The center has provided over 8,000 successful orthopedic surgeries, and offers a wide range of services, including:
● Arthroscopic surgery for all joints e.g. Shoulder, wrist, ankle
● Foot & ankle surgery
● Fractures and all types of dislocated joints caused by accidents or sports
● Fractures and trauma care
● General orthopedic investigation and consultation
● Hand & microsurgery
● Injuries or chronic pain from sports
● Limb deformity/length discrepancies
● Office syndrome
● Orthopedic trauma surgery
● Pediatric orthopedic surgery
● Rheumatoid arthritis
● Shoulder surgery
● Sports medicine consultation
● Minimally Invasive Surgery
● Minimally Invasive Plate Osteosynthesis (M.I.P.O)
● Bone and Joint Infection
● Bone malunion or nonunion fractures
"King of Bones" Total Orthopedic Solutions
Vejthani's King of Bones building houses various centers that constitute the overall orthopedics department at Vejthani Hospital.
With the ongoing advancements in technology that Vejthani Hospital has adopted, it's no wonder that Vejthani Hospital has earned a sterling reputation for the quality of its orthopedic services.As more and more overseas patients fly to Bangkok for orthopedic treatment, the "King of Bones" is living up to its reputation as one of the best orthopedic hospitals in Bangkok.