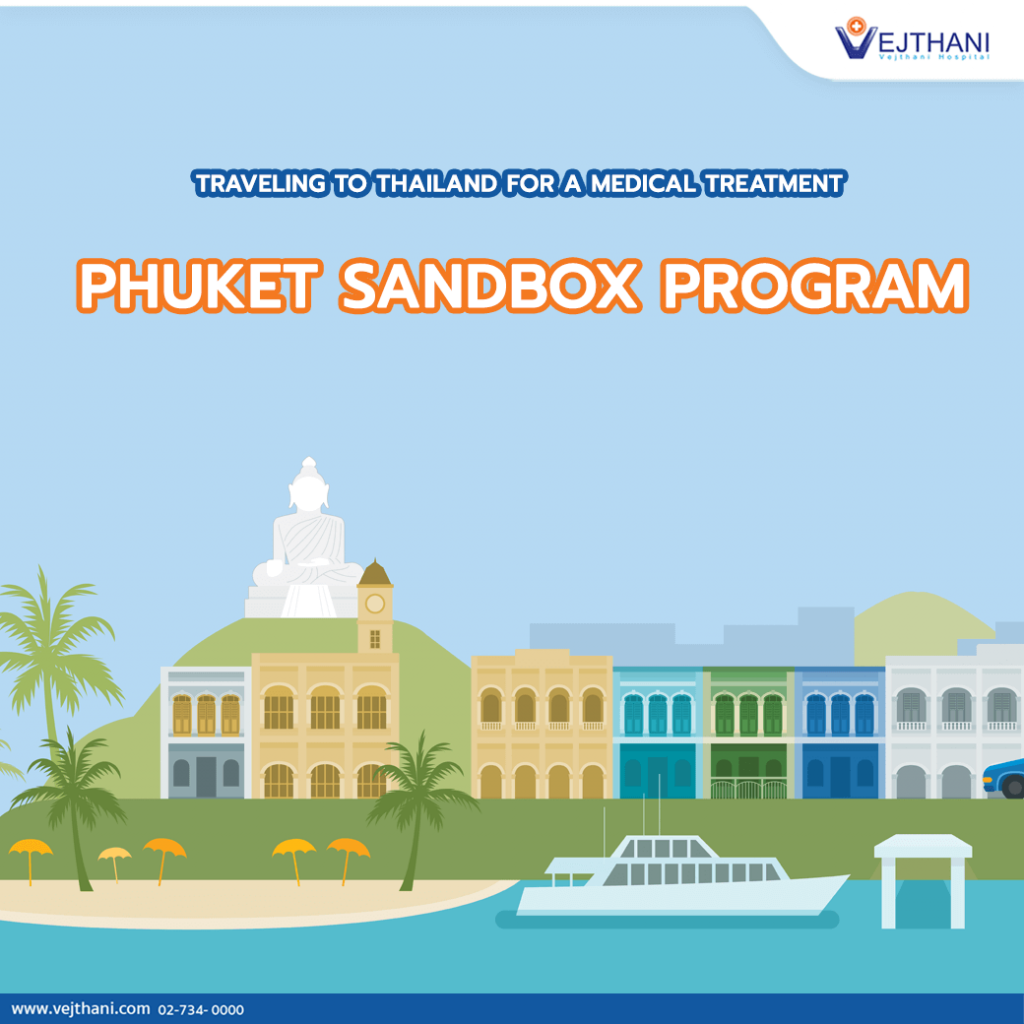 Do you want to come to receive medical treatment here in Thailand? If your answer is 'YES', we have a choice for you. Since mandatory quarantine reinstated amid Omicron concerns, however, the sandbox program will still eligible.
The travelers who are under the Phuket Sandbox Program must stay at least 7 nights in SHA+ Hotel in Phuket. They will need to undergo 2 RT-PCR tests while in the country, one on arrival and another one on day-7. If the result was negative, they will then be allowed to travel to other tourist destinations in southern parts of Thailand which are Railay beach in Krabi, Koh Ngai, Phi Phi Island, Khao Lak, Kho Yao, Kho Samui, Kho Phangan, and Kho Tao.
In case of the need of traveling to other parts or provinces in Thailand or the need of receiving medical treatment in Bangkok, the travelers or the patients must stay in SHA+ Hotel for another 7 nights in Phuket (14 nights in total) before doing that.
For the patients who aim to come to receive medical treatment in Vejthani Hospital, Bangkok, Thailand, Vejthani Hospital will help facilitate and take care of you and your loved ones in every step of the way starting from initial contact, SHA+ Hotel booking, van transfer service to the hospital after 14 nights in Phuket, during your treatment, discharge, departure and even when you are already back to your home country. We ensure that we can cater your needs all throughout your treatment process while you are provided with our excellent medical services performed by our world-class specialist doctors, nurses, and staff.
For more information, kindly contact us at;
Vejthani Hospital's Hotline
English Hotline: +66(0)85-223- 8888
Whats app +6685-223- 8888
E-mail: [email protected]
Bangladesh Hotline: +66(0)85-485- 2333
Line, Whats app, and Viber +6685-485- 2333
E-mail: [email protected]
Khmer Hotline: +66(0)89-201- 9000
Facebook messenger (Cambodian official page)
Line +6689-201- 9000
E-mail: [email protected]
Chinese Hotline: +66(0)84-751- 6222
We chat (vejthani-china)
E-mail: [email protected]
Amharic Hotline: +66(0)90-907- 2560
IMO, Line,Viber +6690-907- 2560
E-mail: [email protected]
Burmese Hotline: +66(0)81-984- 5111
Viber and Line +6681-984- 5111
E-mail: [email protected]
Russian Hotline: +66(0)85-230- 5555
Viber, Whats app, Line and Wechat +6685-230- 5555
E-mail: [email protected]
Vietnamese Hotline: +66(0)97-291- 3351
Viber, Whats app, and Line +6697-291- 3351
E-mail: [email protected]
Arabic Hotline: +66(0)84-875-7700
Whats app +66848757700
E-mail: [email protected]
Readers Rating

Rated 5 stars




5

/ 5 (

Reviewers

)

Spectacular
---