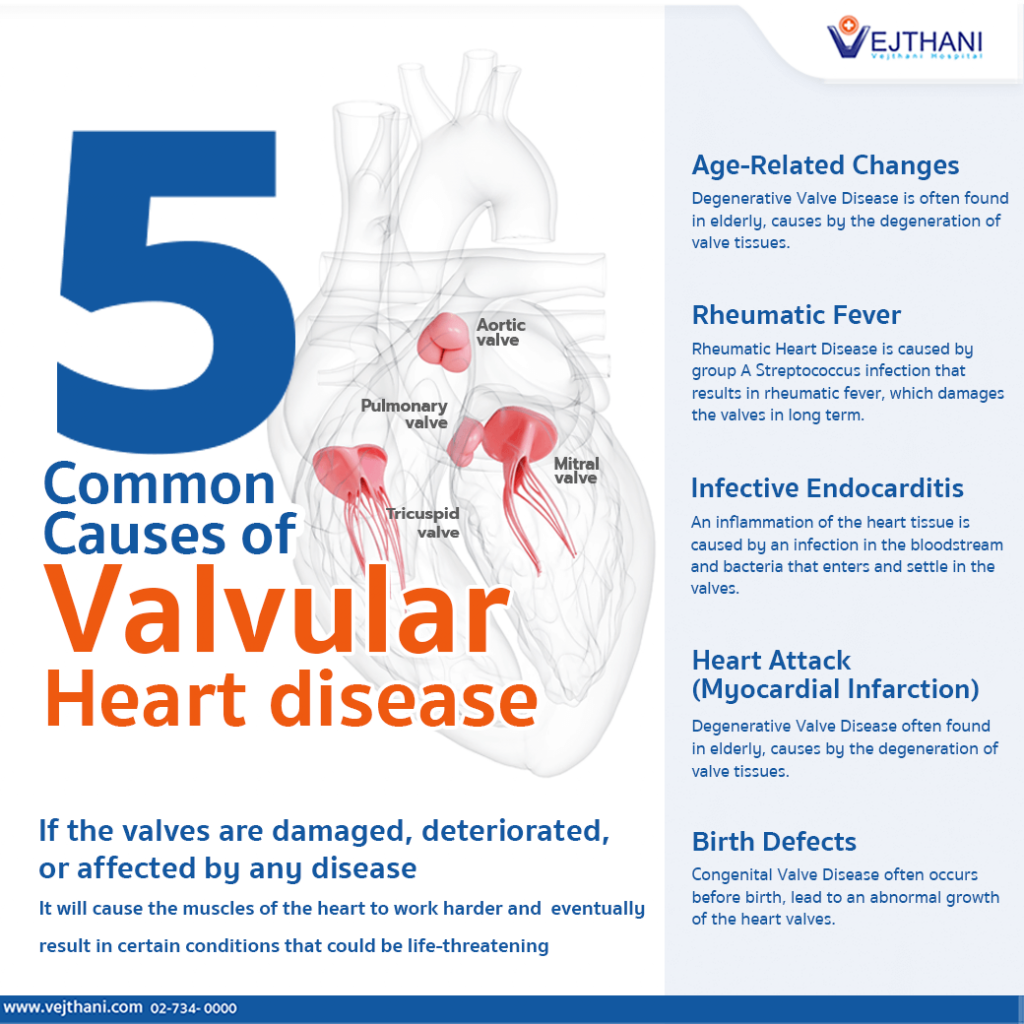 Age-Related Changes: Degenerative Valve Disease is often found in elderly, causes by the degeneration of valve tissues
Rheumatic Fever: Rheumatic Heart Disease is caused by group A Streptococcus infection that results in rheumatic fever, which damages the valves in long term. The symptoms of heart abnormality often appear after 5-10 years of rheumatic fever.
Infective Endocarditis: An inflammation of the heart tissue is caused by an infection in the bloodstream and bacteria that enters and settle in the valves, resulting in patients to develop acute illness and severe heart failure.
Heart Attack (Myocardial Infarction): This may cause Mitral valve leakage.
Birth Defects: Congenital Valve Disease often occurs before birth, lead to an abnormal growth of the heart valves.
Valvular heart disease is classified as two different types; Valve Stenosis and Valve Regurgitation, which can occur in all four valves. Often times, patients with valvular heart disease have the tendency to feel tired, have chest tightness, palpitations, irregular heartbeats, and swollen feet (edema). It is vital for the patients to seek immediate medical attention to diagnose and received proper treatment. If the symptoms have not progressed to a severe stage, doctors may prescribe oral medications and make periodic appointments to follow up on the condition. In the case of severe valvular heart disease, heart valve repair or replacement surgery will be necessary.
For further information, please contact
Cardiac Center, Vejthani Hospital.
Tel. 02-734-0000 Ext. 5300 English hotline: (+66)8-522 38888
Readers Rating

Rated 3.6 stars




3.6

/ 5 (

Reviewers

)

Very Good
---