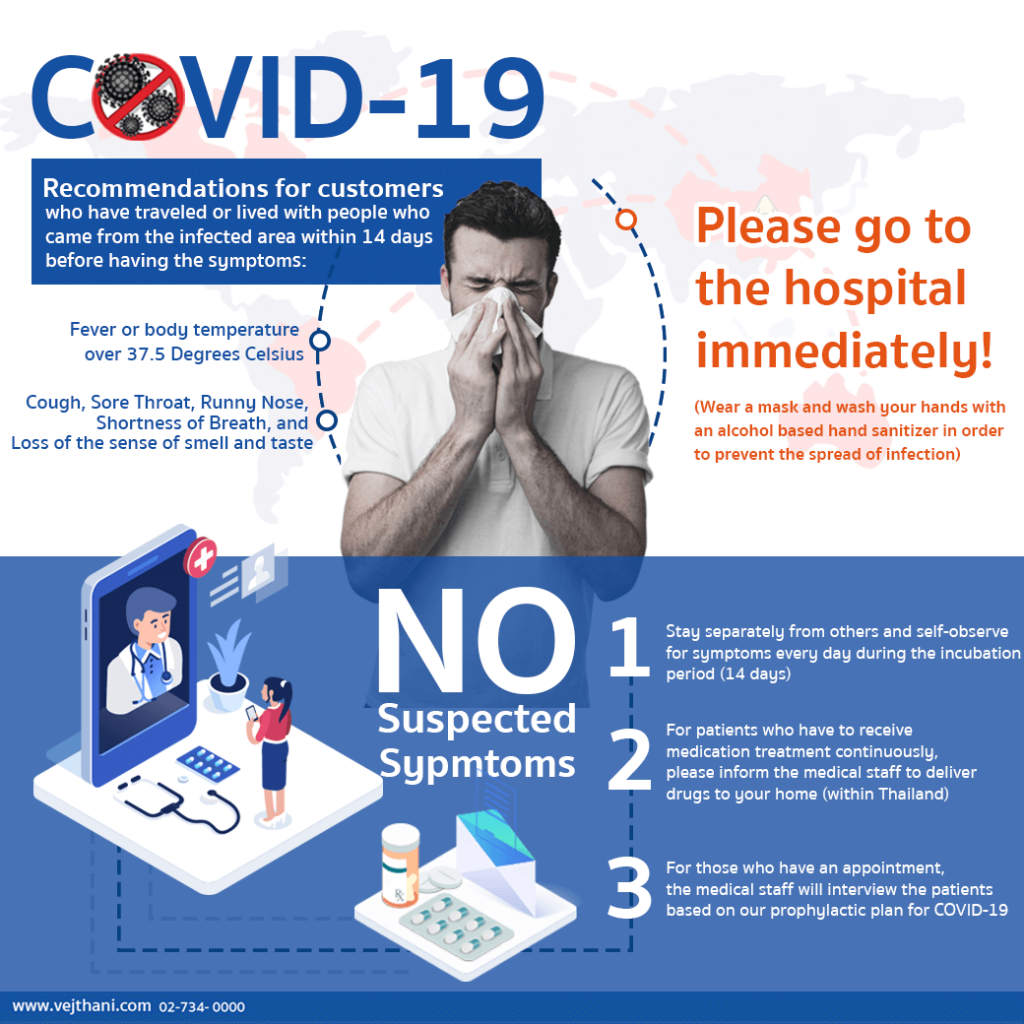 Due to the COVID-19 outbreak in Thailand, Vejthani Hospital has developed a prophylactic plan for COVID-19 and recommendations for customers who have traveled or lived with people who came from the infected area within 14 days before having the following symptoms:
Fever or body temperature over 37.5 Degrees Celsius.
Respiratory problems such as Cough, Sore Throat, Runny Nose, Shortness of Breath, and Loss of the sense of smell and taste.
Please go to the hospital to receive the treatment immediately. (Wear a mask and wash your hands with an alcohol based hand sanitizer in order to prevent the spread of infection)
For those who have traveled from the infected area but have no suspected symptoms:
Stay separately from others and self-observe for symptoms every day during the incubation period (14 days).
For patients who have to receive medication treatment continuously, please inform the medical staff in order to deliver drugs to your home (within Thailand).
For those who have an appointment, the medical staff will interview the patients based on our prophylactic plan for COVID-19.
The hospital has a prophylactic plan as follows:
1. Before entering the hospital, all customers and staff are required to wear masks to prevent the spread of COVID-19. There will be only two entrance-exit doors open on the ground floor which are the front-entrance and the back-entrance. Thus every customers will undergo the primary disease investigation with the thermoscan camera in order to check the body temperature. This is one of the prophylactic plan for COVID-19. 
For the customers who park the cars at the basement of the Building 1, please enter through the entrance at the ground floor (The entrance in front of the emergency room).
For the customers who park their cars at the 2nd, 3rd, 4th, or 5th floor, please use the elevator to the G floor to enter through the back-entrance.
2. The hospital has prepare an Acute Respiratory Infection clinic, especially for the patients who have high fever (body temperature of 37.5°C or more) managed by the well trained medical team and staff for the suspected patients.
3. Separately arranged elevators for suspected patients.
4. Negative pressure room prepared for suspected patients, in order to prevent the spread of infection.
5. Frequent cleaning of the elevators and touched things with high efficiency antiseptic disinfectant.
6. For medical staff or related people who have to touch or get close with the infected patients, they have to wear protective equipment based on international standards.
7. The hospital had a drill of the suspected or infected patient's transfer plan.
8. A standee is set up in the hospital to educate and inform the customers about the disease.
Readers Rating

Rated 5 stars




5

/ 5 (

Reviewers

)

Spectacular
---