Pharmacy Robotic Dispensing Made Faster & Safer
As the world is moving forward, a variety of advanced innovations and new technologies has deployed to improve our quality of life. Vejthani Hospital has also adopted the most suitable innovation to provide the best healthcare services to the patient.
At innovation-led Vejthani Hospital, we took the next step toward embracing robotic technologies by introducing 'Pharmacy Robotic Dispensing System', thereby reducing the time for medicine preparation, improving medication safety and quality of medication management process.
"EV220", Outpatient Pharmacy Robotic Dispensing System
Our 'EV220' is connected with the hospital information system. Once a pharmacist gets a prescription from the doctor and finishes the verification process, the robotic will find the specified drug and fill in a pill bottle and send it down along with the label indicating the patient's name, dosage information and barcode for barcode verification before collecting the pill bottle.
Then the pharmacists will bring the prescription to the robot and scan the barcode to confirm that it is the correct pill bottle before collecting it. The use of Robotic Dispensing System can reduce the overall workflow of the pharmacists and also increase the efficiency of dispensing. The pharmacists will have more time to focus and counsel the patients on how to use or take the medication which results to a better overall patient experience.
When the medicines in the machine are running low or out of stock. The system will alert the pharmacist to restock. The barcode verification is required to assure the correct selection of drugs to be placed into an automated system. This verification process of refilling can reduce mistake of selecting the wrong medication.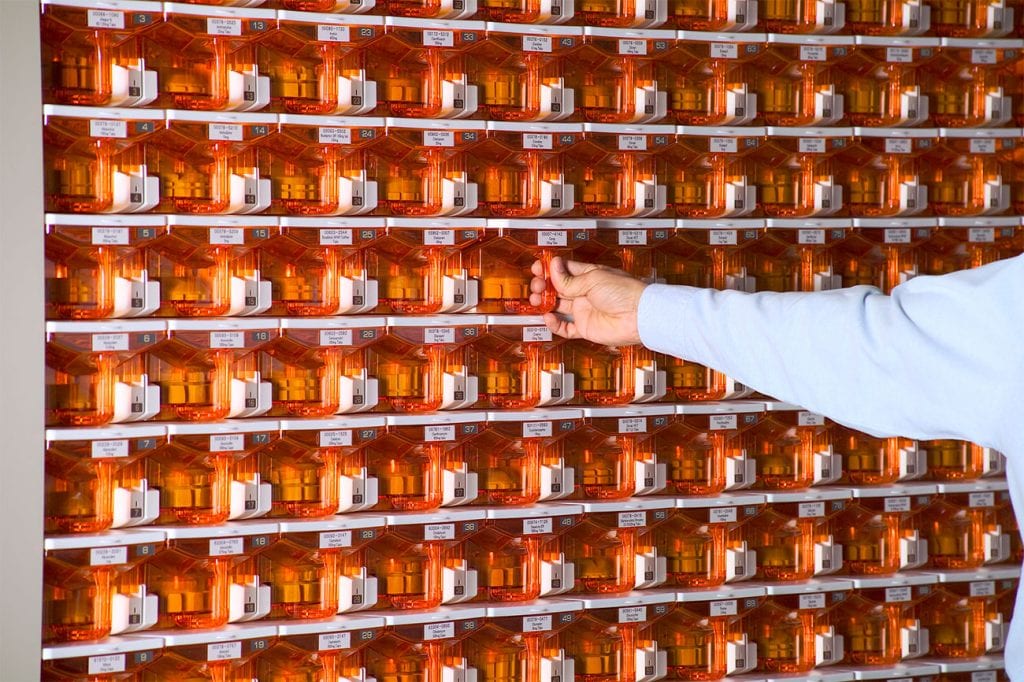 "PROUD", Inpatient Pharmacy Robotic Dispensing System
For the inpatients, we also use the robotic system, called 'PROUD' to distribute medicine. This robot has a holding capacity of 260 different medicines and is also connected with the hospital information system.
When the prescription for the inpatient is ready, the medicine dose will be prepared in the unit including the patient's name and time of administration with a barcode for medication administration verification process to assure that the correct drug is given to the patient.
By implementing these two automated Pharmacy Robotic Dispensing System, they can reduce the error rate in dispensing medicines and the prescriptions are safer from contamination. It is one of the advancements in Vejthani Hospital to improve our patient's experience and deliver an outstanding patient service based on international standard.