REFERRAL AND AVIATION DIVISION
WELCOME TO REFERRAL AND AVIATION DIVISION, VEJTHANI HOSPITAL
Referral and Aviation Division provides variety of travel services, visa extension and business support to all patients and their families, to ensure that the medical travelers and their families are well assisted on all their travel needs.
OUR SERVICES
Visa Extension
Travel Arrangements
Hotel Reservation
V Flight Service
Visa Extension
We provide visa extension service to the patients and relatives (or the following persons) by coordinating with Immigration Bureau for approval of temporary stay in Thailand (please contact at least 10 working days in advance prior to the visa expiry date)
90 days address report service: The foreigner who stay longer in the kingdom must notify the address in Thailand to the Immigration office every 90 days from the arrival date. The report can be done 15 days before the due date or not more than 7 days from the due date
Travel Arrangements
Referral and Aviation Division can assist for arrangements of your flights, transportation, accommodation and tour reservations by coordinating with travel agency that meet the hospital's safety and service quality standards
Air ticket service (Domestic and International)
Transportation service to Airport and other destinations
Local tour service (Half day / Full day / Evening Dinner & Entertainment)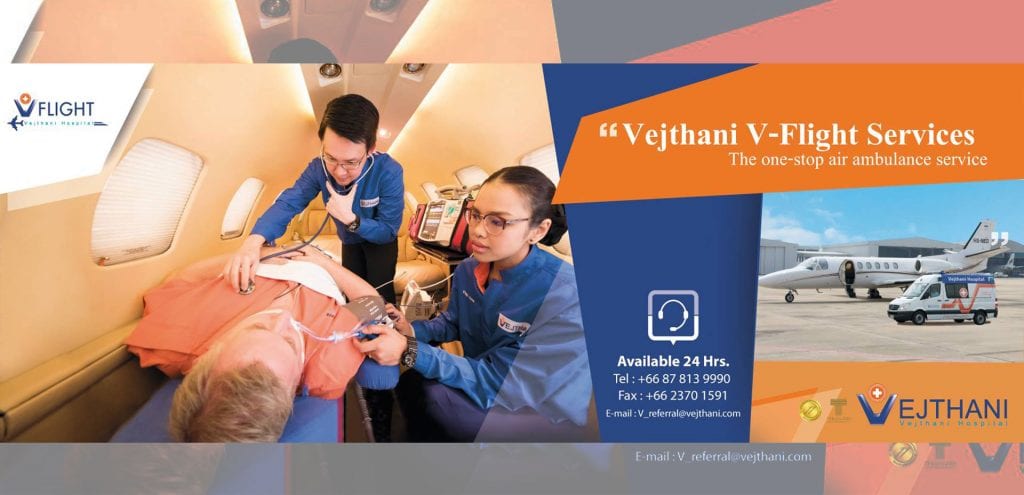 Hotel Reservation
111 Residence, the corporate hotels granted corporate rate for customers of Vejthani Hospital. Please click here to see our service and rates
V Flight Service
V Flight service is offer a wide range of Medical Aviation Service, from medical bed-to-bed private air ambulance for patients with the most urgent medical needs and non-emergency medical escort service by commercial flight. Our team consist with a highly trained and experienced medical crews and operation staff which available at 24/7 in order to provide the most comfortable, efficient aeromedical experience possible to the patients who need an emergency evacuation for urgent medical care or repatriation to their homeland throughout the continental Asia and other countries.
We aim to accommodate any medical need as the patient might have.
Our V Flight service
Our specialists are standby 24/7 for review patient's information and consider mode of transportation base on the injury or illness.
Air Ambulance with complete medical escort team Fixed wing aircraft is installed with advanced life support, stretcher and oxygen
Flight escort service for commercial airlines
Ground Ambulance transportation
SPECIALIZED CARE
ICU / CCU experience
Specialists in Neonatal and Pediatric care
Cardiologist specialist
Aviation medicine certificated
FAA Approved Portable Medical Equipment
Standard patient's medical record
CONTACT US
Request quotation or enquiries
Referral & Aviation Division, Vejthani Hospital
Hotline number : +6687 813 9990 E-mail: [email protected]
Service Hours: Monday through Sunday from 08:00 am – 08:00 pm
Email: [email protected]
Tel: +662 734 0354
Hotline: +668 255 2810