Digital CAD/CAM for Only-In-One Visit Dental Restoration
CAD / CAM Taking regular good care of teeth is must. Teeth have paramount role in building up our confidence and enhance our quality of life. However, taking proper dental care amid the hustle and bustle of routine life is easier said than done.
On top of that, getting traditional dental restorations that usually requires at least 2-4 hospital visits over 2.5-3 months time is definitely an uphill battle. Now you can stop wondering how your calendar looks like and simply make an appointment to get a dental restoration in a single visit within 2-3 hours at Dentalis Center in Vejthani Hospital. Thanks to Digital Dental CAD/CAM solutions at Dentalis!
CAD/CAM in the field of dentistry and prosthodontics refers to Computer-Aided Design and Computer-Aided Manufacturing that improves the design and production of dental restorations like implants, crowns, fixed bridges, veneers, and inlays and onlays. With the aid of advance CAD/CAM technology, only-in-one visit dental restorations has become possible. The technology has also replaced irritating dental impression procedures with more precise and reliable intra-oral digital scanning. Dentalis Center at Vejthani Hospital uses state-of-the-art Straumann CARES CAD/CAM products and services that offers complete dental solution from short-term restoration to modern esthetic prosthetics.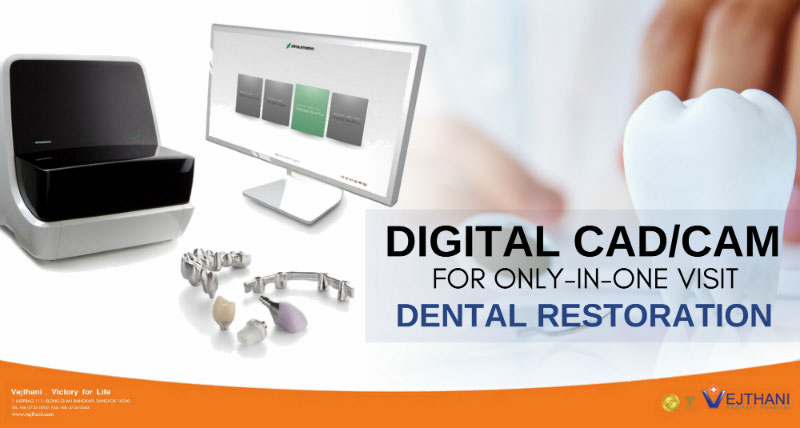 The following are some of the salient features of Digital CAD/CAM solutions:
Same day only-in-one visit dental implant
Reduced pain
Smaller incision (4.5 mm)
Faster healing
Multiple teeth restorations only-in-one visit
Better results compared to conventional dental procedures
The only-in-one visit dental restoration process begins with 3-D X-ray, exclusively for dental implants; followed by intra-oral scanning to take a digital impression. The dental restorations are subsequently designed to perfection on a computer screen before sending the design to a milling chamber that complies with the industrial standards. Next, the dental restorations are accurately carved out of a biocompatible prosthetic block, generally high-performance ceramic. Finally, the prosthetic is applied to the damaged tooth after duly ensuring that its translucency provides an impeccably natural look.
The digital workflow of CAD/CAM dental restoration is highly streamlined, precise and efficient. The overall procedure takes merely 2 to 3 hours. Rest assured, in all of our dental procedures we ensure the consistent use of high quality biocompatible prosthetic materials carved into desired esthetic personalized design that perfectly fits with the dental restoration area.
Choose modern digital CAD/CAM technology for dental restoration. Life is too short for lengthy conventional ones!