A 42 year old Malaysian woman, post operative mitral valve repair done by Dr. Taweesak Chotivatanapong.
She was diagnosed with Mitral Valve Prolapse at a young age. Dr. Taweesak stated that he is confident her valve is repairable, with Prosthetic heart valve.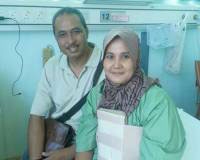 As verbalized by the patient " based on our culture (muslim culture) it will be a blessing for a women to bear a child and it will make our lives more fulfilling."
The couple have been informed that there are potential complications and they are things that needs to be watch out for such as monitoring the anti coagulation level, food intake, pre conception counseling and assessment is also recommended and care for these patients should be delivered throughout pregnancy.
There is no problem bearing children with usual mitral valve prolapse. Rarely a severe leak of the valve which leads to surgical repair or valve replacement and would have an impact for women that wants to bear a child.