Patient Name : Ms. Rebecca W
Surgeon : Dr.Theera Yanyuen
Referred by : Stunning Makeovers
The staff and Doctors at Vejthani Hospital are all so helpful and friendly. There are so many nurses available to take care of you and they are so attentive and patient.
Dr.Theera was extremely professional and confident. I felt at ease with him and was very confident in his ability I'm so pleased with the results of both my mini tummy tuck and breast lift/augmentation. I was prepared for pain and was pleasantly surprised at the lack of with the tummy.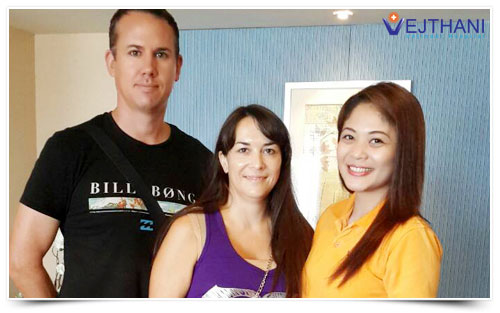 Pearl has looked after me at all my appointments and she is very helpful and polite. Her English is amazing and she is so professional.
The rooms are spacious, tidy and efficient like a lovely hotel. I highly recommend Dr.Theera at Vejthani Hospital and all the staff there.