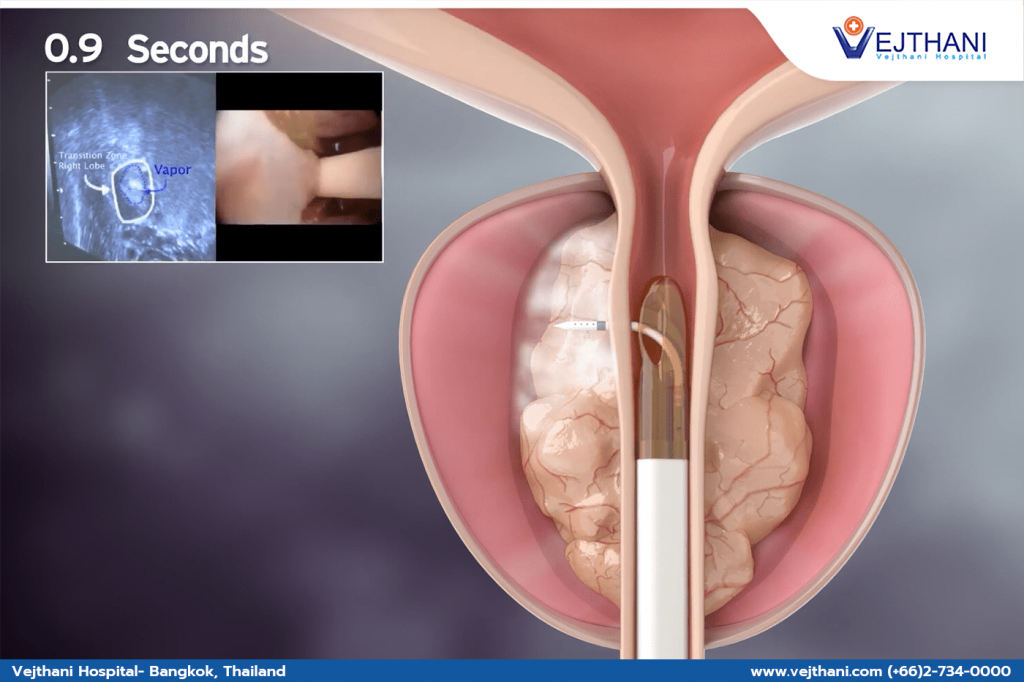 Benign Prostatic Hyperplasia tends to cause symptoms of urinary problems, such as dysuria, frequent urination at night, as well as inability to empty the bladder or hold the urine. These may interrupt patients' everyday life.
Currently, a water vapor-based technology, called Rezum water vapor therapy, is used to treat Benign Prostatic Hyperplasia. It is a non-surgical treatment that uses hot water steam to destroy excess tissues around the prostate gland.
Benefits of Rezum Water Vapor Therapy
No surgery is required, therefore no incisions are made
No anesthesia is needed
Takes only 10-15 minutes
No overnight stay at the hospital
The treatment effects last up to 5 years
Eliminates the need for lifetime medications
Noticeable improvement of the complications that occur in sexual functions that are caused by standard surgery.
Rezum water vapor therapy is done by inserting a small needle scope through the urethra into the prostate gland. The doctor will then release steam at 106 °C into the gland 6-10 times, 9 seconds per time. The hot vapor will be dispersed to destroy cells of the prostate gland that block the urethra. After that, the body's natural healing process will absorb the dead cells. This procedure improves symptoms within 4-6 weeks.
For further information, please contact Urology Center,
Vejthani Hospital. Call 02-734-0000 Ext. 4500
English hotline: (+66) 8-522 38888
Readers Rating

Rated 4.1 stars




4.1

/ 5 (

Reviewers

)

Excellent
---