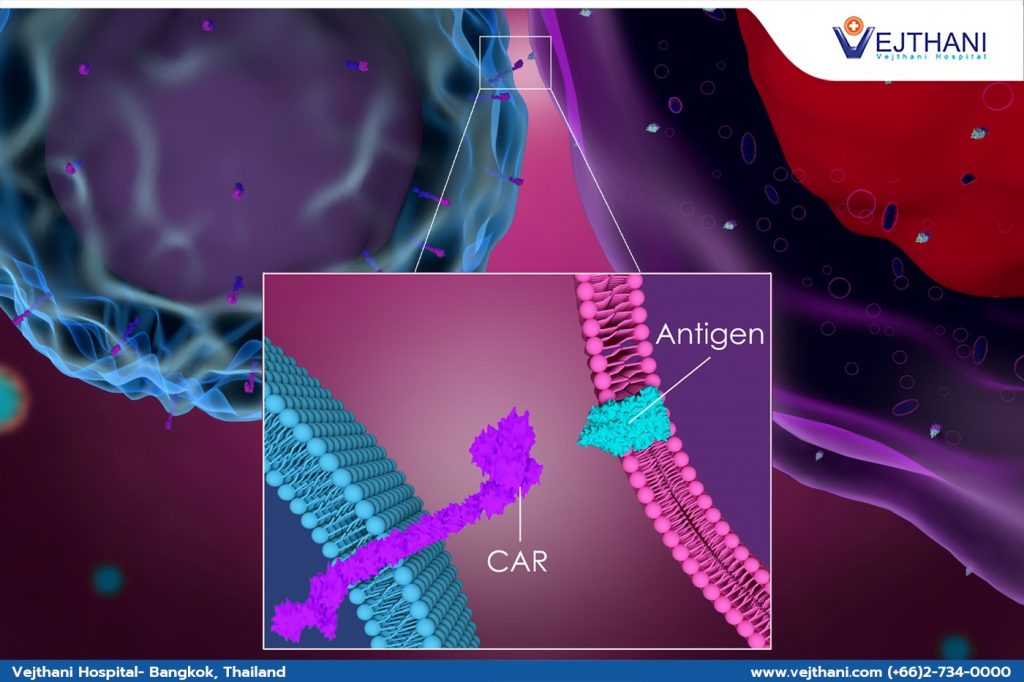 Cancer is one of the leading causes of death in patients around the world. There are roughly 130,000 new cancer patients in Thailand. In 2021, there were 84,000 deaths due to cancer. The number is expected to grow from the current situation.
Dr. Itsara Anongjanya, a hematologist at Vejthani Hospital, said that during the latest years, apart from standard cancer treatment such as surgery, radiotherapy and chemotherapy, new cancer treatment methods that are more effective with fewer side effects have been developed. The innovative treatments include targeted therapy, immunotherapy as well as CAR T-cell therapy (chimeric antigen receptor T-cells).
T-cells are a type of white blood cell that plays an important role in the immune system. They are responsible for destroying foreign particles in the body. CAR T-cell therapy is a personalized cancer treatment technique that has been developed especially for blood cancer. T-cells will be collected from the patient's blood and engineered in the laboratory into chimeric antigen receptors (CAR). These engineered antigen receptors allow T-cells to detect a specific type of cancer.
When CAR T-cells are delivered back into the body of the cancer patient, they will destroy the cells of that particular cancer. CAR T-cells will also gradually grow in number, stay in the body and control the cancer cells as well as prevent cancer recurrence. Types of blood cancer that can be treated with CAR T-cells are B-cell acute lymphoblastic leukemia, B-cell non-Hodgkin's lymphoma, Mantle cell lymphoma, Follicular lymphoma and Multiple myeloma.
However, CAR T-cells may cause side effects after the treatment. The most common side effect is cytokine release syndrome (CRS). This disease may result in high fever, severe nausea, vomiting, diarrhea, muscle and joint pain as well as some neurologic effects such as headache, seizures, severe confusion, impaired speech and cerebral edema that may rarely lead to fatality.
Due to the risks of Car T-Cell therapy, patients who have undergone this treatment are required to be admitted to the hospital for up to 10 days for their symptoms to be closely monitored. The risk of treatment or recovery period is around 2-3 months in total.
CAR T- cell therapy treatment plan differs from patient to patient depending on the location, type and stage of cancer. This makes it extremely crucial for the treatment plan to be assessed and constructed by a multidisciplinary team of specialists for precise treatment outcomes.
For inquiries, or to make an appointment, please call our English hotline at +66 (0) 85-223-8888 or email [email protected]
Readers Rating

Rated 4.4 stars




4.4

/ 5 (

Reviewers

)

Outstanding
---