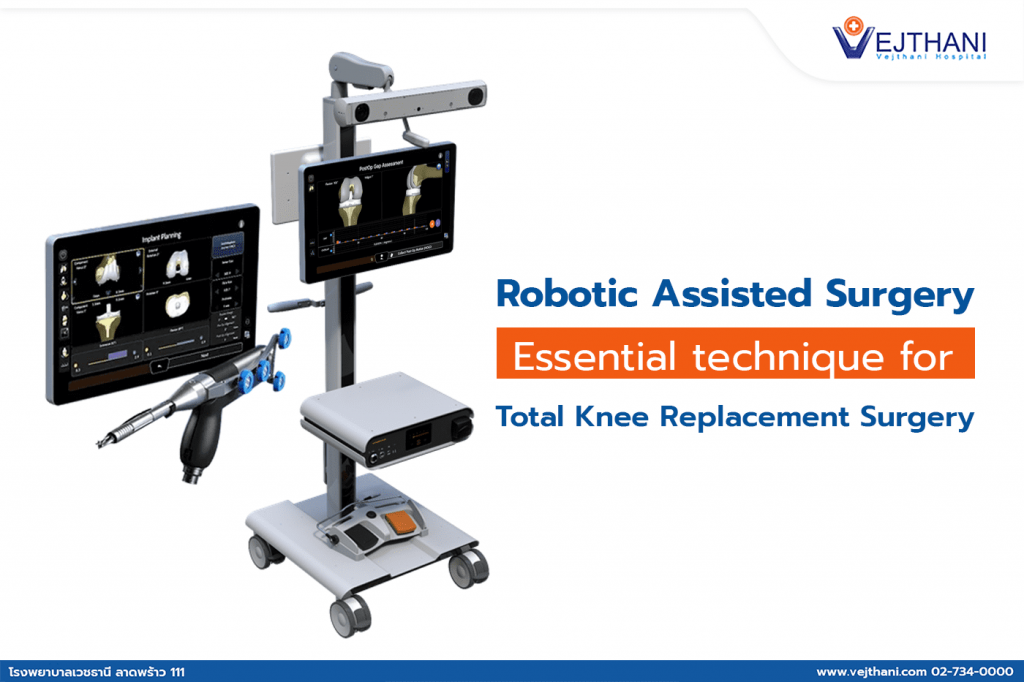 Knee osteoarthritis is a problem that commonly occurs as people age. However, these days, osteoarthritis is found more frequently in younger people. Leaving the disease untreated, may affect everyday life.
Surgical treatment is needed when the symptoms grow severe. Today, Vejthani Hospital has taken an advanced step forward to implement comprehensive treatment, from computer-assisted surgery to robotic-assisted surgery. This is a state-of-the-art technology that enhances surgical precision.
Robotic-assisted surgery is an essential element in the planning of surgical treatment. The prominent function of robotic-assisted surgery is precisely locating the position of the bone before performing the surgery and ensuring that the location matches the position that needs to be treated. This reduces the risk of mistakenly destroying other bones as a result of mismeasurement. Moreover, Robotic-assisted surgery requires no screw fixation on the artificial joint to prevent the bone from moving. When the surgery is about to exceed the measured range, the device will stop working right away. This prevents the operations from being performed on an unintended spot.
With the experience and expertise of the surgeons along with the implementation of proper technology, the artificial knee implant can be placed closer to the original spot, allowing the knee to function as naturally as possible like before.
The use of robotic-assisted surgery is suitable for patients with severe knee osteoarthritis. After the surgery, they can happily return to the lifestyle they had before and start engaging in exercises and using the knees like their natural pairs. They will be able to stand, walk and move the knee again within 24 hours after the operation. Importantly, the surgical incision is small, causes minimal pain and lowers the risks of possible complications.
For more information, please contact
Robotic Knee Replacement Center
1st Floor, King of Bones Building, Vejthani Hospital
Call +66(0)2-734-0000 Ext. 2222
+66(0)85-223-8888 (English Hotline)
Readers Rating

Rated 4.3 stars




4.3

/ 5 (

Reviewers

)

Outstanding
---