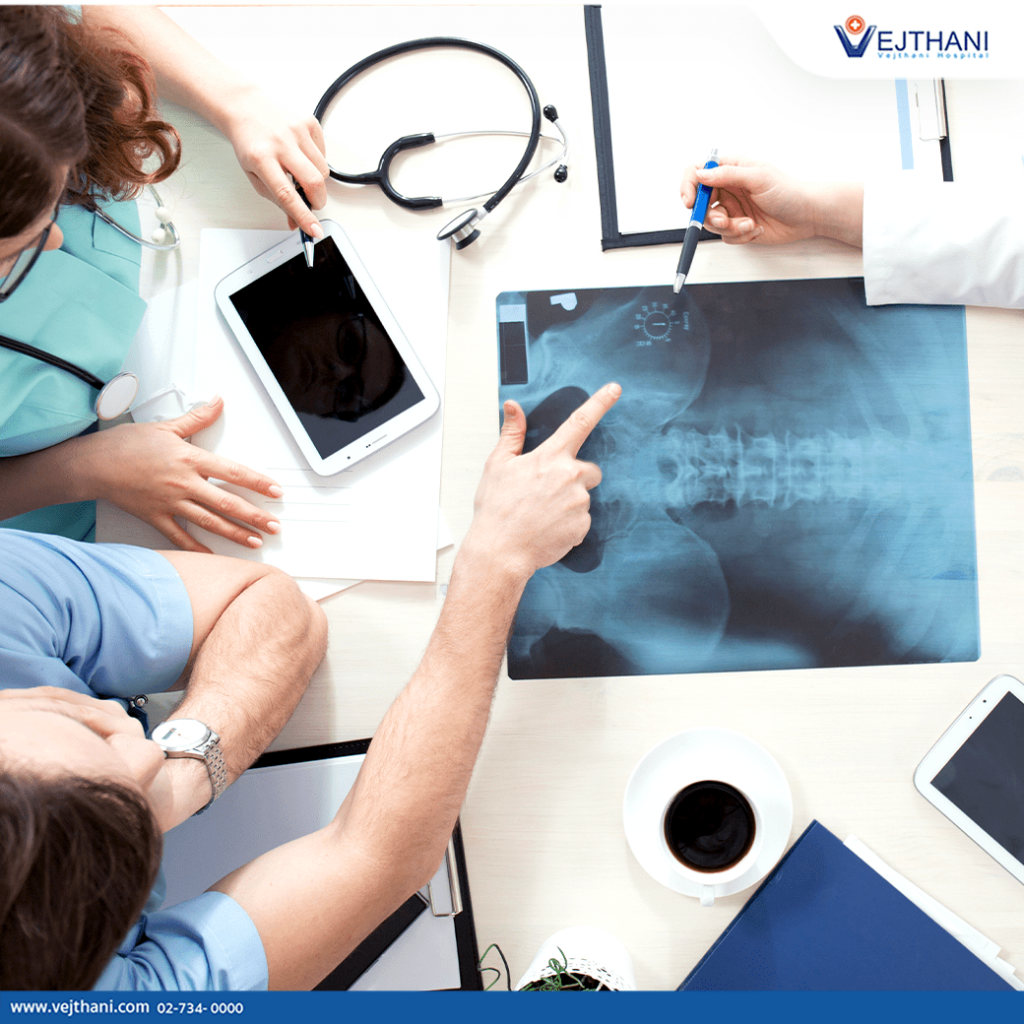 Vejthani Hospital is one of the leading private international hospitals in Thailand and is known for providing JCI accredited quaternary health care services. Their specialization in orthopedic services has earned them the nickname "King of Bones" by many of their patients. This article explores all the types of high-quality orthopedic care that make Vejthani Hospital the "King of Bones."
King of Bones
Vejthani Hospital provides holistic care for patients with a variety of orthopedic concerns, including spine and musculoskeletal conditions. Care is provided by a multidisciplinary team of experts with various specialties, including orthopedists, physiatrists, physiotherapists, and occupational therapists. This allows them to provide the most comprehensive care possible and adjust their care approach according to individual patient needs.
In May 2021, Vejthani Hospital opened the "King of Bones" building, a dedicated space for all the hospital's dedicated bone care centers, including the Orthopedic Center, Spine Center, Total Joint Replacement Center, Advanced Rehabilitation Center, and Diagnostic Imaging Center.
Each of these departments is equipped with cutting-edge medical equipment to provide patients with modern care solutions. Robotic technology assists specialist teams with many aspects of patient care, such as diagnosis, surgery, and rehabilitation.
Orthopedics Center
Located on the 2nd floor of the King of Bones Building, the Vejthani Hospital Orthopedics Center specializes in musculoskeletal system care provided by a range of specialists and surgeons. Because our team includes experts with various specializations, we can assist our patients through each stage of their care, from consultation to treatment to rehabilitation.
Our services include general orthopedic investigation and consultation, sports medicine consultation, treatment of fractures and dislocated joints, chronic pain and arthritis treatments, consultation and treatment regarding feet, ankles, and hands, office syndrome treatment, microsurgery, trauma care, shoulder surgery, arthroscopic surgery, limb deformity and length discrepancy treatment, and orthopedic trauma surgery.
Total Joint Replacement Center
The Vejthani Hospital Total Joint Replacement (TJR) Center is located on the 2nd floor of the King of Bones Building and specializes in procedures to correct joint issues, including high tibial osteotomy, unicompartmental knee arthroplasty, total knee arthroplasty (knee replacement surgery), hip arthroplasty (hip replacement), minimally invasive hip and knee arthroplasty, and arthroscopy.
Joints are complex areas of the body that are subject to a lot of wear and tear throughout our lives. Because of this, joint surgeries require a high level of expertise and delicate attention to detail, which is why many patients prefer to entrust Vejthani Hospital for these procedures. Our team can employ a variety of techniques, including computer-assisted surgery or minimally invasive approaches to cater to patients' needs and provide the most appropriate care for each situation.
Spine Center
Vejthani Hospital's Spine Center provides the finest spine treatments in Thailand. Our advanced surgical and non-surgical treatments provide top solutions personalized to each patient's unique needs.
Our services include steroid injections, removal of herniated intervertebral discs via discectomy or microdiscectomy, decompression procedures like laminectomy or laminotomy, foraminotomy, disc replacement, scoliosis correction, and spinal fusion using a variety of approaches. Our specialized team approaches each case with compassion and expertise, providing spinal care that is unmatched by any other hospital in Bangkok.
Advanced Rehabilitation Center
At Vejthani Hospital's Advanced Rehabilitation Center, a diversified team of specialists in human movement rehabilitation helps patients achieve their individual movement goals, including post-surgery rehabilitation, pain management, and non-surgical treatments.
Our team uses advanced technology to help patients achieve top results. Robotic-assisted gait therapy, shockwave therapy, continuous motion machines, hydrotherapy, ultrasound diathermy, and high-intensity laser therapy are just a few of the approaches that we employ to assist our patients.
Our rehabilitation team consists of physical medicine and rehabilitation doctors, physiotherapists, and occupational therapists, so we can offer holistic care regarding a variety of concerns, including physical therapy, speech therapy, and rehabilitation of fine motor skills. Our team of specialists can coordinate to cater to all your rehabilitation needs.
Visit Vejthani Hospital
If you have any musculoskeletal concerns, visit Vejthani Hospital, the best orthopedic hospital in Bangkok. You can be sure that you will receive top care from a diversified team of medical professionals who can address any issues using their wealth of specialized experience.
With the most up-to-date medical technology and globally recognized qualifications, our team has everything needed to provide patients with the best care. Contact us via our mobile hotline at +66 8522 38888 or our Facebook page to consult with a doctor today.
Readers Rating

Rated 3.9 stars




3.9

/ 5 (

Reviewers

)

Excellent
---