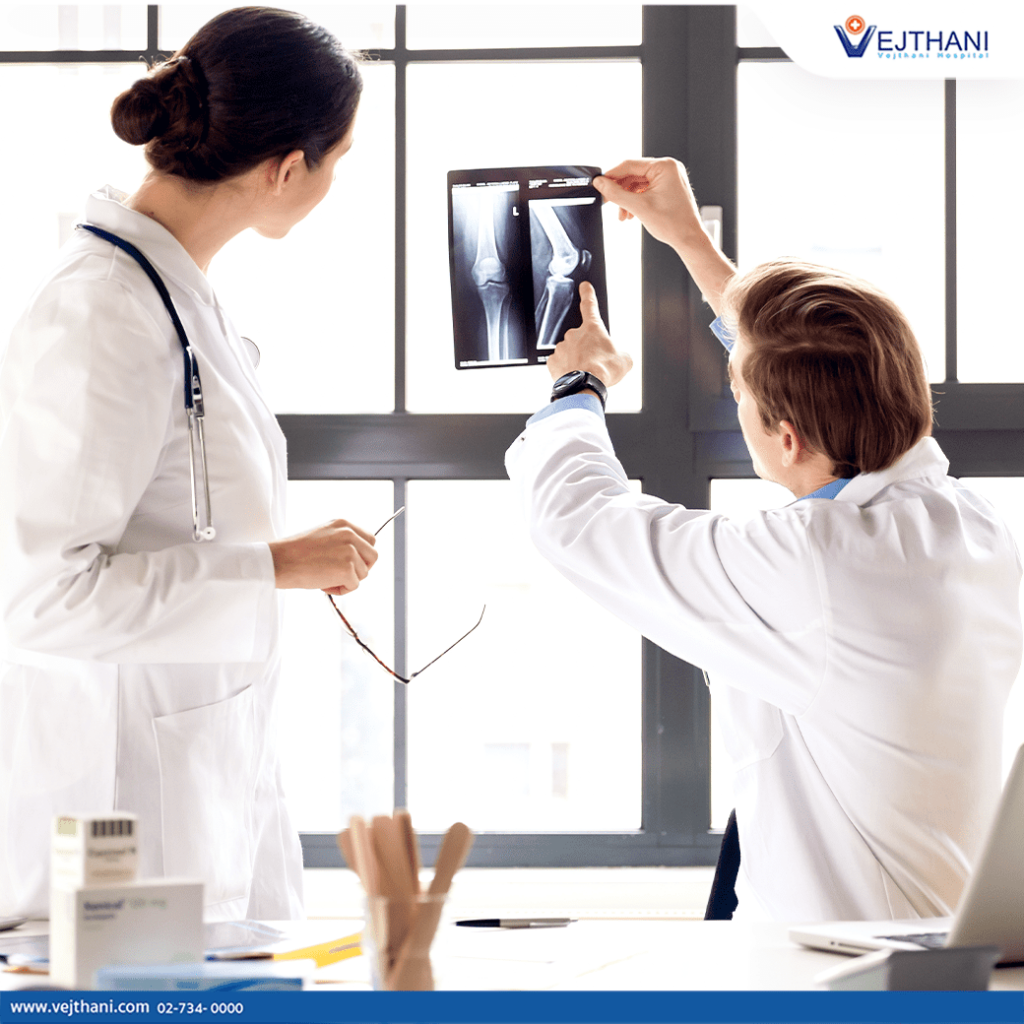 Vejthani Hospital is best known for its excellent orthopedic services. It is no surprise that our hospital's orthopedic services are popular among locals, expats, and medical tourists. This article will explore why people choose Vejthani Hospital to handle their musculoskeletal health concerns.
King of Bones Building
Vejthani Hospital's reputation as a center for treating bone and skeletal issues is so strong that we have been given the nickname "King of Bones." Following this designation, the hospital recently built the "King of Bones" building, which houses our various centers that specialize in musculoskeletal care, including the Orthopedics Center, Total Joint Replacement Center, Spine Center, and Advanced Rehabilitation Center.
Expert Surgeons and Specialists
The medical professionals that make up the exceptional team at Vejthani Hospital are our biggest asset. Our orthopedic team consists of expert surgeons, doctors, orthopedic specialists, physical therapists, and occupational therapists. We have staff specializing in each area of the body, creating a diversified team with a wealth of knowledge and experience to handle any medical situation concerning the musculoskeletal system.
All our staff have received extensive medical training and many have honed their skills through experiences in Thailand, Europe, and the United States. With internationally developed knowledge and expertise, they are prepared to handle a variety of conditions with ease.
State-of-the-art Technology
Vejthani Hospital uses the most up-to-date medical technology to provide patients with the best recovery solutions available. In addition to providing minimally invasive treatment options, our surgeons can offer robotic-assisted surgery for the highest level of precision and optimal results.
Additionally, our advanced rehabilitation center uses various technologies to assist our patients in making full recoveries. Some of our modern rehabilitation tools include robotic-assisted balance and gait training, shockwave therapy, high-intensity laser therapy, ultrasound therapy, strengthening machines for individual muscle groups, and hydrotherapy.
Modern Facilities
Another characteristic that makes our hospital so comfortable for our visitors is our world-class facilities. Each area of our hospital is modern and well-constructed to provide our patients and visitors with a clean, calming environment. Our facilities are fully accredited to international standards, allowing us to provide the ideal environment for our patients to receive top medical care.
Comprehensive Care
Our multidisciplinary team is able to provide comprehensive care for all our patients, walking them through each stage of their recovery from diagnosis to rehabilitation. Drawing from the expertise of all our specialized team members, we can provide individualized treatment plans that perfectly meet our patients' needs.
Our staff is known for their compassionate approach to patient care. We focus on communicating well with our patients to ensure that they understand and are comfortable with each stage of their care.
Global Patient Assistance
One of the reasons that our hospital is so popular among expats and medical tourists is our convenient global patient service team that coordinates with our patients outside Thailand. We have global offices in eleven countries and offer assistance in nine different languages via dedicated information hotlines.
Additionally, Vejthani Hospital provides patients with visa extension assistance, international insurance payment solutions, embassy and international organization coordination services, repatriation assistance and special dietary requirement arrangements. We work to ensure that visiting our hospital is easy and stress-free for all our foreign patients.
Visit Vejthani Hospital
Be confident in your recovery from musculoskeletal health concerns when you receive care from some of the best orthopedic doctors in Thailand at Vejthani Hospital. We have the training, facilities, technology, and international assistance services to ensure that your stay is convenient and comfortable while providing unmatched quality care. Visit our website to learn more.
Readers Rating

Rated 0.5 stars




0.5

/ 5 (

Reviewers

)
---