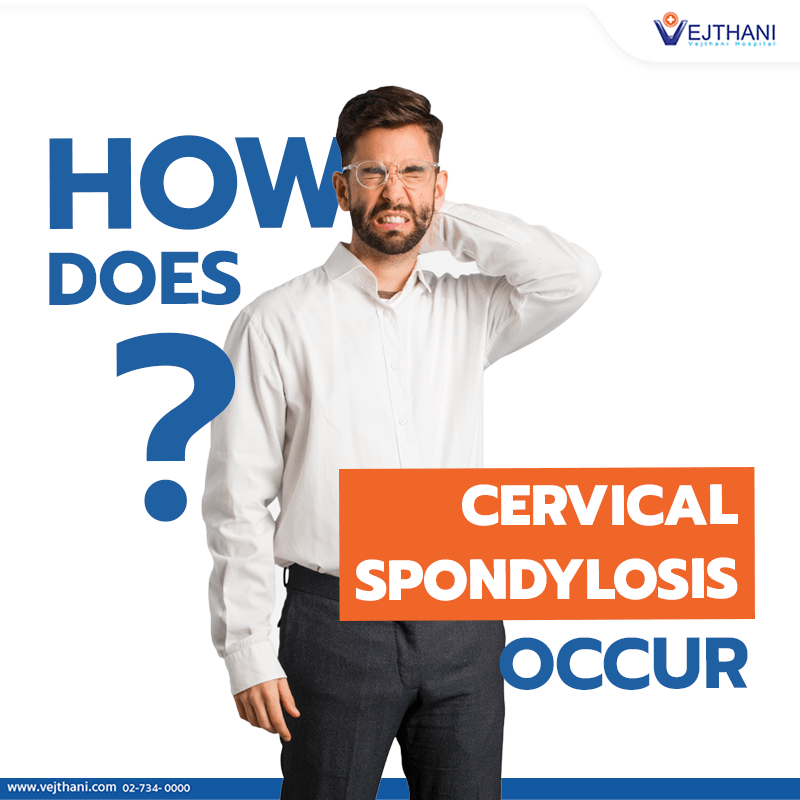 You may think that cervical spondylosis is a natural age-related disease. In fact, it actually can be caused by poor habitual neck postures such as excessive bending, lifting, or twisting. These poor neck postures increase the risk of cervical spondylosis because these activities can cause the cervical spine to bear compression. Over time, the structure of the spine might be changed and the discs will deteriorate. In addition, if it was left untreated, a calcified spine may form and this will cause bone spurs, thus increasing the risk of a herniated disc. 
Cervical spondylosis can be divided into 3 degrees of severity
Mild: There is no spinal cord compression associated, but the patient may experience pain in the neck, shoulder, and shoulder blades.
Moderate: There is an entrapment neuropathy problem, hence, the patient will experience numbness along the nerves, weakness in the hands and arms, and severe neck pain that radiates into the arms.
Severe: There is a spinal cord compression involved in this stage. Therefore, the patient will suffer pain and stiffness in the body, arms, and legs causing a limited range of body movement and body balance disorders.
There are Several Treatment Options for Cervical Spondylosis
Basically, the doctor will start providing the patient with conservative treatment which is physical therapy and medication for the patients with mild cervical spondylosis. If the symptoms progress or there are more symptoms such as numbness and pain that radiates down into the arms (which are signs of spinal cord compression), the doctor may consider providing the surgery option. Currently, there is an advanced technique called minimally invasive surgery which allows the patients to have a small incision of 3 centimeters, thus, enables the patients to get a faster recovery and shorter hospital stay. In fact, the patient has to stay only one night at the hospital, then, be discharged and go back to spend their normal lives. 
For more information, kindly contact Spine Center, Vejthani Hospital, or call +66(0)2-734-0000 Ext. 5500 or +66(0)8-223-8888 (English Hotline). 
Readers Rating

Rated 5 stars




5

/ 5 (

Reviewers

)

Spectacular
---