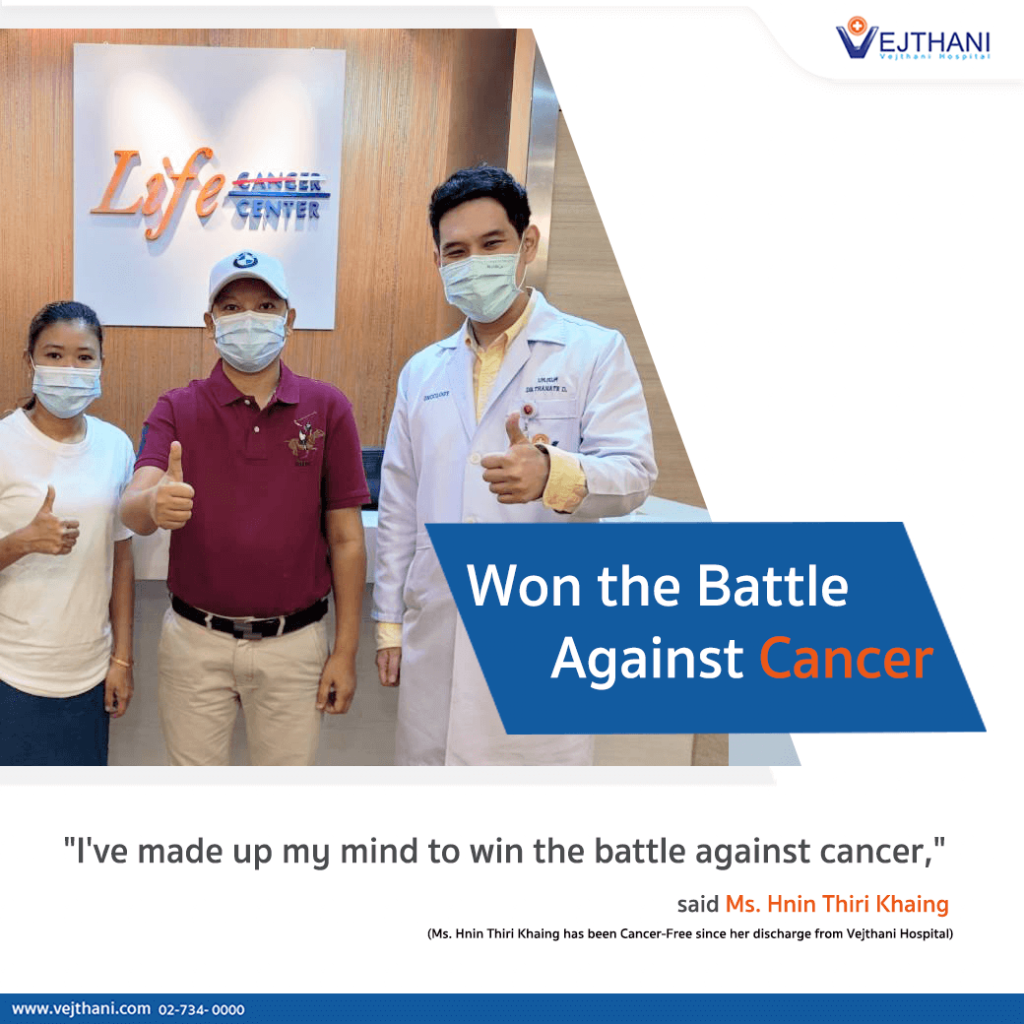 "I've made up my mind to win the battle against cancer,"  said Ms. Hnin Thiri Khaing, who has been Cancer-Free since her discharge from Vejthani Hospital.
Ms. Hnin Thiri Khaing, a Breast Cancer Patient from Myanmar, shared her journey to victory against her cancer at Vejthani Hospital as below;
"Around 2020, I felt abnormal pain in my left chest during exercise. I was suspicious and went to consult with the doctor to get a mammogram check. After getting the Biopsy confirmation test, I was diagnosed with Breast Cancer. I was shocked and depressed but I have quickly decided to get the treatment in Bangkok since I heard a lot of good stories and I've made up my mind to win the fight with this Cancer.
I've known Vejthani Hospital since 2019 when me and my family visited Bangkok to get a medical checkup. My sister strongly suggested me to go to Vejthani Hospital since we have never been to Thai Hospitals at that time and she told us that the Myanmar Interpreter Team at Vejthani is the best choice for first-timers and they will help you with everything like a family. That was my first experience with Vejthani and I was impressed by their service.
So, back to my cancer treatment, as soon as I arrived to Vejthani Hospital, the Oncologist and Surgeons teamed up together to discuss the treatment plan for my condition. The breast surgeon did the surgery to remove my tumor altogether with 13 lymph nodes. Then, the Oncologist doctor continues the treatment with Chemotherapy. I thought I would suffer the terrible side effects of Chemotherapy but I did not. I could even go to last-minute shopping just after I finished my last Chemo cycle.
After the whole treatment was completed, I was worried about cancer spreading to other organs and happen again. So, the doctor suggested me to do the whole-body PET Scan. After reading the PET Scan result, the doctor said "You are Cancer-Free". It was the sweetest words I heard during my whole journey. I would like to thank all the Doctors and Nurses at Vejthani Hospital and especially the Myanmar Patient Care team for helping me with everything I need during my stay and even after I was discharged from the hospital."
Vejthani Hospital would like to wish you to be in the best of health and we thank you for allowing us to post this wonderful story. It was our pleasure to fight the Cancer together with you.
Readers Rating

Rated 5 stars




5

/ 5 (

Reviewers

)

Spectacular
---