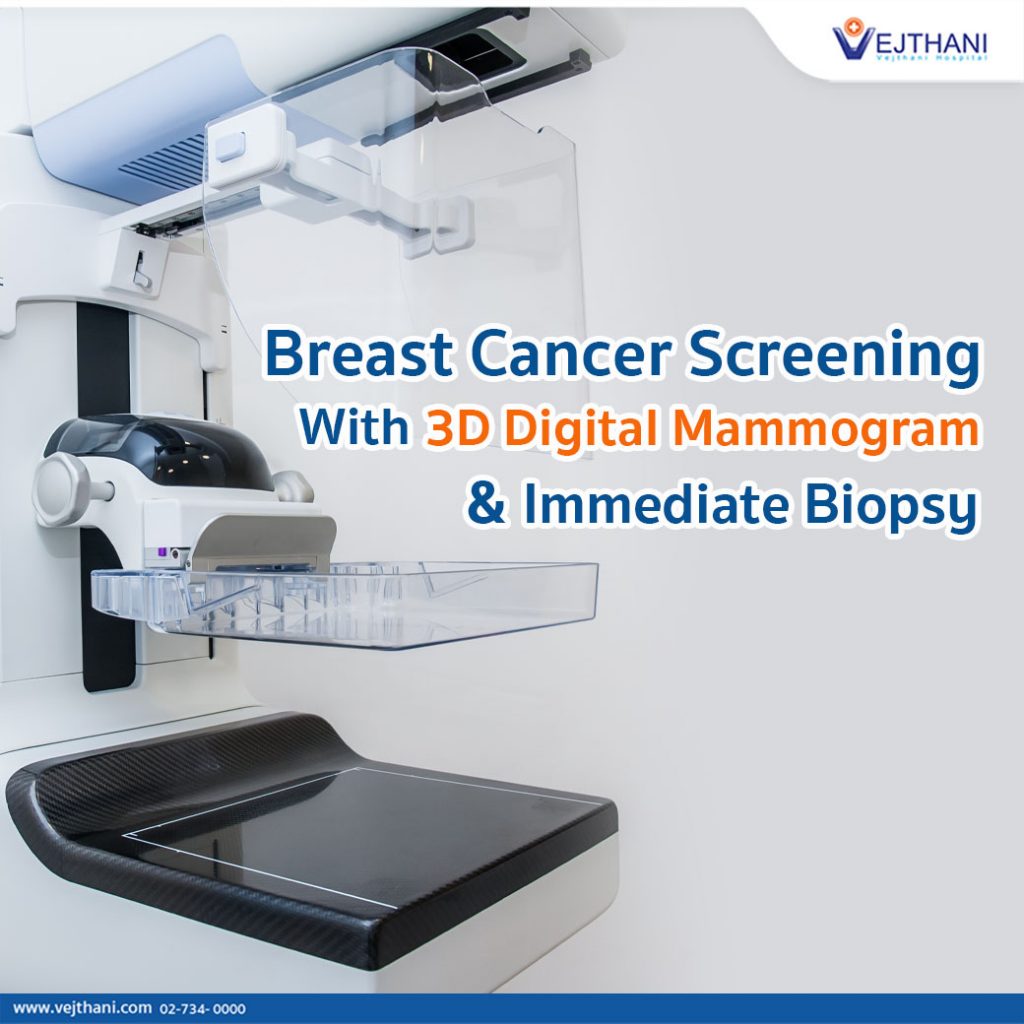 Thailand continues to hold its first place in breast cancer mortality rate in women for many consecutive years. Breast Cancer screening with mammogram machine in conjunction with breast ultrasound that produces high resolution images is therefore vital in detecting breast cancer at a very early stage, as it creates an opportunity for the patient to be completely cured.
Dr. Pornporm Thungkatikajonkit, specialist in advanced diagnostic breast imaging and intervention at Vejthani Hospital explains the standard method of breast cancer screening as follows:
Breast self-exam; palpation once a month after 5-10 days of the first day of your menstruation.
Breast cancer screening; by undergoing mammography and ultrasound once a year for women age 40 onwards.
Mammography detects abnormal calcifications in the breasts that are as small as a millimeter, which cannot be identified by palpation or ultrasound. Mammogram therefore has its advantage of detecting breast cancer at an early stage and reduces the death rate by up to 30%.
Currently, with the help of cutting-edge technology, digital mammogram machine has been developed into 3D Digital Breast Tomosynthesis that takes only 3.7 seconds to capture each x-ray image. The 3D digital mammogram machine also shows thin layers of lumps separately that are overlapping by fats and muscles in the breasts especially for women with dense breasts, resulting in clearer images of the abnormal lumps or calcifications. Nonetheless, a better detection of breast cancer can be made compared to the 2D mammogram machine.
Ultrasound will reveal the lumps or cysts in the breasts. If lumps are detected, it will be able to show their size and diameter to identify if they are normal or prone to breast cancer. This will result in precision and accurate diagnosis of breast cancer.
If any abnormality is found in the breasts, a biopsy can be done for an immediate diagnosis, by injecting local anesthetic medicine without the need of IV sedation. The method leaves a tiny scar about the size of a needle with minimum pain and can be done as an outpatient procedure. There are two ways that Core Needle Biopsy can be performed:
Ultrasound-guided core needle biopsy is an insertion of a needle through the skin into the lump in the breast. The doctor will have a clear vision of the needle and the lump through the ultrasound display screen that ensures the right location of the mass.
Stereotactic-guided vacuum-assisted core needle biopsy is an insertion of an abnormality in the breast that has been detected by mammogram such as small calcifications. The use of a 3D computer increases the accuracy of the precise location and a vacuum-powered instrument is employed to collect the tissue samples during one needle insertion.
An early diagnosis of breast cancer can lead to an early treatment. Breast screening reports at Vejthani Hospital can be provided within the same day as the examinations. An immediate biopsy is available for patients' convenience and it helps reduce anxiety while waiting for test results.
"Breast cancer is the most common cancer found in women. There are still no preventive methods available like certain types of cancer. Hence, the best preventive measure is to undergo regular screenings", said Dr. Pornporm Thungkatikajonkit. Specialist in advanced diagnostic breast imaging and intervention, Vejthani Hospital
Readers Rating

Rated 5 stars




5

/ 5 (

Reviewers

)

Spectacular
---