Description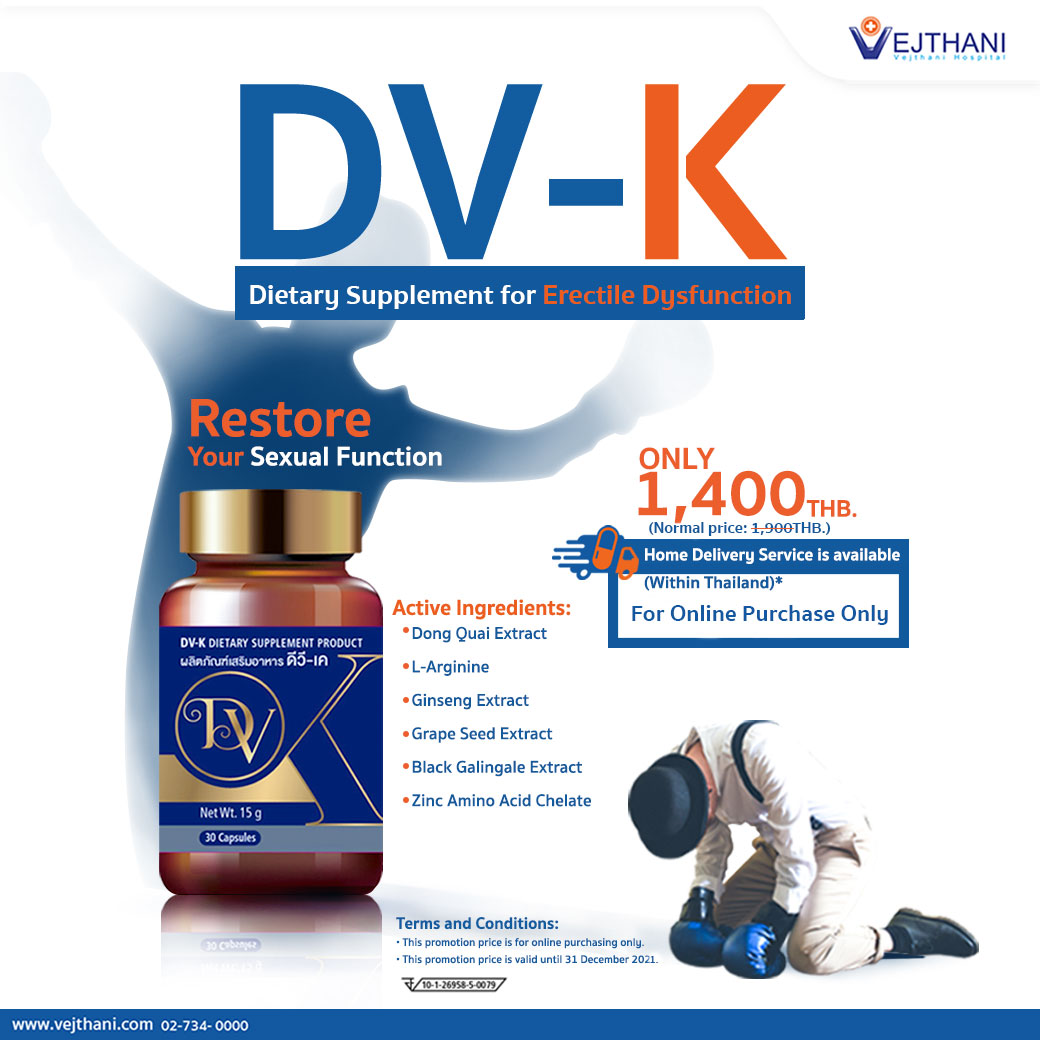 DV-K is a dietary supplement that could treat erectile dysfunction with its active Ingredients. It could repair and restore blood vessels, reduce blood clots, and increase the testosterone hormone. Moreover, it can be easily absorbed into the body, so it is able to dilate the blood vessels within 3-4 hours after consuming.
Active Ingredients include:
Dong Quai Extract: Dong Quai is an herb native in China, Japan, and Korea. It is rich in compounds with anti-inflammatory and immune-stimulation effects. Its extract has ability to purify blood to manage hypertension, infertility, joint pain, ulcers, anemia, and constipation.
L-Arginine: L-Arginine acts as a vasodilator. It has the ability to dilate blood vessels, hence it could reduce the symptoms of angina and treat erectile dysfunction.
Ginseng Extract: Ginseng has an anti-oxidant and anti-inflammatory properties. It also can promote the production of nitrix oxide which is a compound that improves muscle relaxation in the penis and increases blood circulation.
Grape Seed Extract: Grape Seeds are rich in anti-oxidants. It can help prevent disease and protect against oxidative stress, damage tissue, and inflammation.
Black Galingale Extract: Flavonoids in black galingale extract have an effect on sexual function and increase blood circulation. It also helps promote the production of nitrix oxide in the blood vessels, as well as adjust and control the blood pressure to an appropriate level.
Zinc Amino Acid Chelate: Zinc Amino Acid Chelate is one of the easily absorbed types of zinc supplement. Zinc has the ability to treat erectile dysfunction by repairing and restoring the blood vessels, reducing blood clots, and increasing the testosterone hormone.
Each bottle contains 30 capsules. Recommended to be taken 1 capsule with breakfast daily.
For inquiry, please contact us at Line @Vejthani
Terms and Conditions:
This promotion price is for online purchasing only.
Home Delivery Service is available within Thailand only.
This promotion price is valid until 31 December 2021.