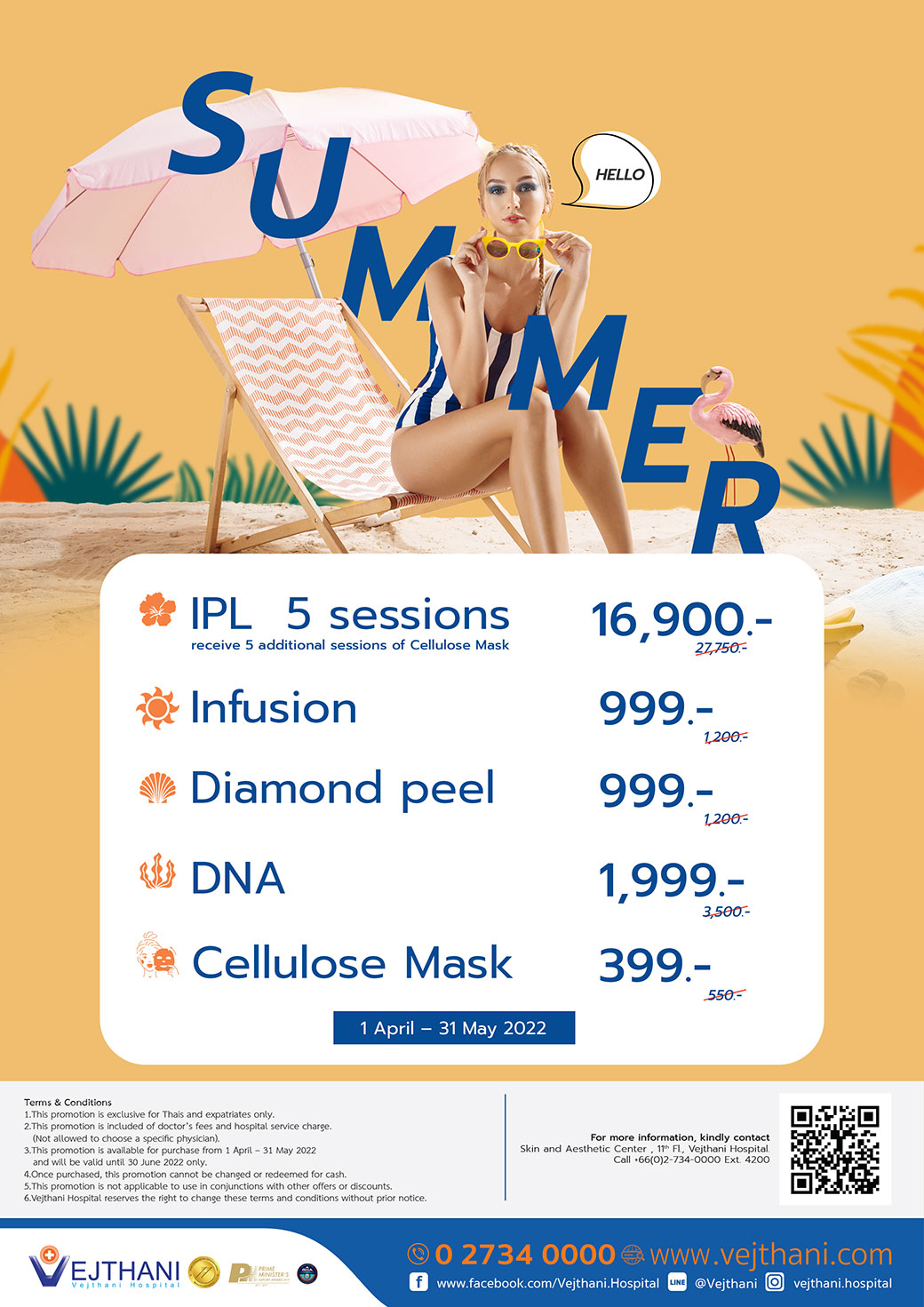 IPL 5 sessions Price 16,900 THB (normal price

27,750

THB)
Infusion Price 999 THB (normal price

1,200

THB)
Diamond peel Price 999 THB  (normal price  

1,200

THB)
DNA Price 1,999 THB (normal price

3,500

THB)
Cellulose Mask Price 399 THB (normal

550

THB)
Terms & Conditions
This promotion is exclusive for Thais and expatriates only.
This promotion is included of doctor's fees and hospital service charge. (Not allowed to choose a specific physician).
This promotion is available for purchase from 1 April – 31 May 2022 and will be valid until 30 June 2022 only.
Once purchased, this promotion cannot be changed or redeemed for cash.
This promotion is not applicable to use in conjunctions with other offers or discounts.
Vejthani Hospital reserves the right to change these terms and conditions without prior notice.
2nd Generation Intense Pulse Light (IPL2) rejuvenates skin with light waves that are not harmful to the skin. The light based treatment stimulates collagen production to make your skin glow and looking youthful, while destroys excess pigments in the outer layer of your skin. It is a painless procedure that leaves no scar.   
Treatment Results from IPL 2nd Generation
Reduces wrinkles and shrunk enlarged pores

Removes dark spots and even out skin tone with no discolorations 

Treats melasma, freckles and sunburns

Restores smooth texture and radiant skin
Infusion Treatment is a technology that adds nutrients into the skin by penetrating vitamins deep into the layers of skin to result in clear, plumped up texture. This process helps reducing skin dullness, brightens the skin tone and gives a radiant effect. It also treats:
Inflamed acne 

Dark spots, freckles, skin dullness 

Wrinkles and fine lines and stimulates collagen production
Diamond Peel is a process of scrubbing skin with crystal powder or gem that helps exfoliate skin cells and gently eliminate dead skin, resulting in radiant smooth and soft texture. While it also stimulate the growth of new skin cells without leaving any scars. This process is completely painless and safe even on the most delicate and sensitive skin. 
Diamond Peel Treatment Results:
Clearer skin and faded dark spots 

Improved pitted acne scars 

Faded tiny spots

Smoother skin texture
DNA Treatment uses technology that fills up skin with nutrients and penetrates into the deepest layer of the skin with the help of various sizes of Vitamin pushers that are suitable for face. This technique will distribute energy waves from the machine and push selective formula of vitamins deep into the skin cells. The technique aims to brighten the skin, remove fine lines, dark spots from acne, dullness and gives a healthy glow. 
Dark spots, dull skin 

Reduce fine lines and stimulate collagen growth 
Cellulose Mask 
Restore moisture and hydrate skin 

Strengthen skin barrier 

Nourishes and brightens skin
For more information, kindly contact
Skin and Aesthetic Center , 11th Fl., Vejthani Hospital.
Call +66(0)2-734-0000 Ext. 4200