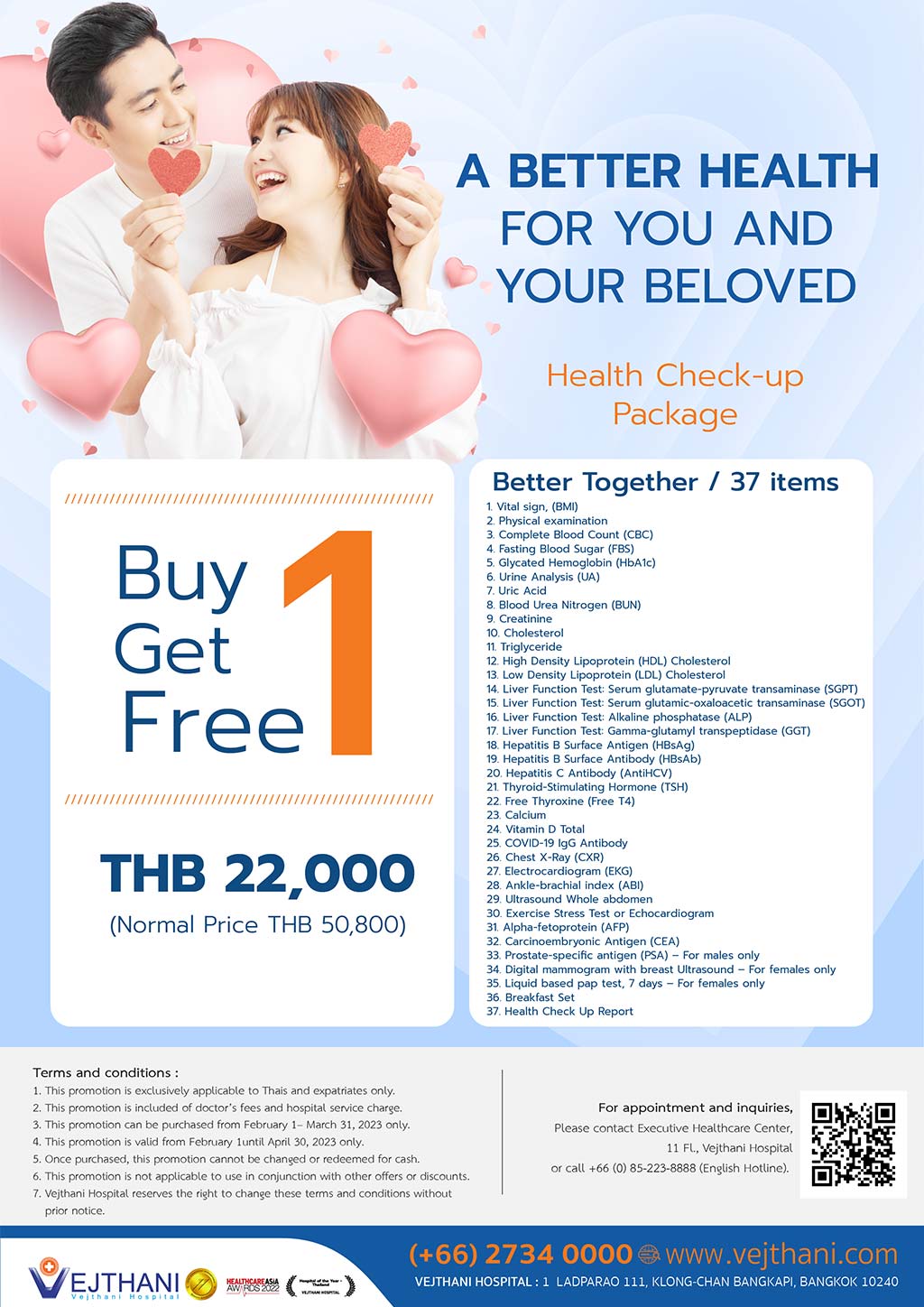 Health Check-up Package "Better Together", Buy 1 Get 1 Free
37 items, THB
22,000
(Normal Price THB 50,800)
Vital sign, (BMI)
Physical examination
Complete Blood Count (CBC)
Fasting Blood Sugar (FBS)
Glycated Hemoglobin (HbA1c)
Urine Analysis (UA)
Uric Acid
Blood Urea Nitrogen (BUN)
Creatinine
Cholesterol
Triglyceride
High Density Lipoprotein (HDL) Cholesterol
Low Density Lipoprotein (LDL) Cholesterol
Liver Function Test: Serum glutamate-pyruvate transaminase (SGPT)
Liver Function Test: Serum glutamic-oxaloacetic transaminase (SGOT)
Liver Function Test: Alkaline phosphatase (ALP)
Liver Function Test: Gamma-glutamyl transpeptidase (GGT)
Hepatitis B Surface Antigen (HBsAg)
Hepatitis B Surface Antibody (HBsAb)
Hepatitis C Antibody (AntiHCV)
Thyroid-Stimulating Hormone (TSH)
Free Thyroxine (Free T4)
Calcium
Vitamin D Total
COVID-19 IgG Antibody
Chest X-Ray (CXR)
Electrocardiogram (EKG)
Ankle-brachial index (ABI)
Ultrasound Whole abdomen
Exercise Stress Test or Echocardiogram
Alpha-fetoprotein (AFP)
Carcinoembryonic Antigen (CEA)
Prostate-specific antigen (PSA) – For males only
Digital mammogram with breast Ultrasound – For females only
Liquid based pap test, 7 days – For females only
Breakfast Set
Health Check Up Report
Terms and conditions
This promotion is exclusively applicable to Thais and expatriates only.
This promotion is included of doctor's fees and hospital service charge.
This promotion can be purchased from February 1– March 31, 2023 only.
This promotion is valid from February 1until April 30, 2023 only.
Once purchased, this promotion cannot be changed or redeemed for cash.
This promotion is not applicable to use in conjunction with other offers or discounts.
Vejthani Hospital reserves the right to change these terms and conditions without prior notice.
For appointment and inquiries,
Please contact Executive Healthcare Center, 11 Fl., Vejthani Hospital
or call +66 (0) 85-223-8888 (English Hotline).